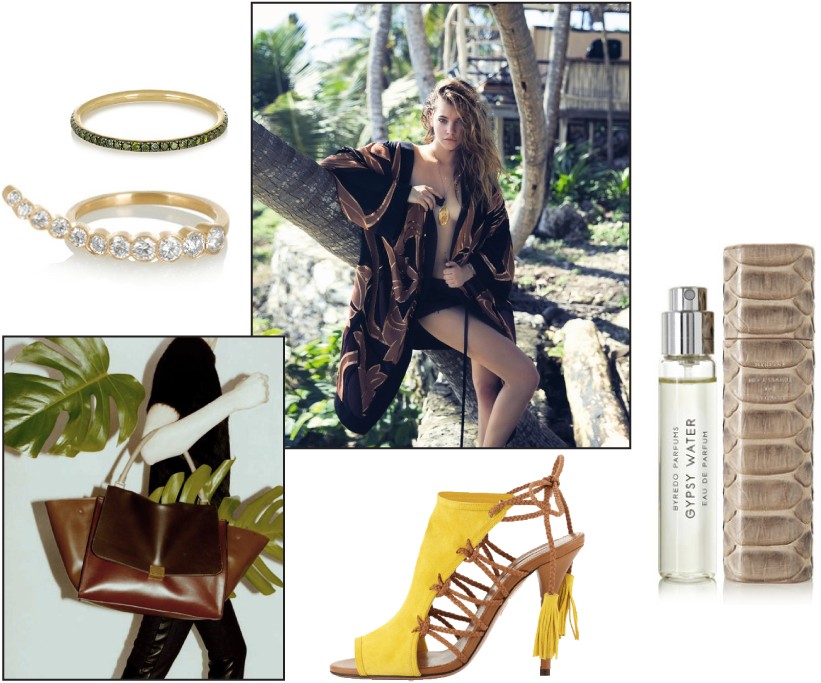 I've been craving simple, but elegant rings for way too long now. These diamond beauties by Greek born
Ileana Makri
and Danish designer
Sophie Bille Brahe
are so over my budget, but I just can't stop dreaming about their collections anyway.
I know spring and summer is nearly here, but I'm so tired of waiting for warmer degrees now. Take me somewhere exotic, please. Where the sand is white and the sun is gazing hot... This is exactly how I would like to dress. That kimono is a d-r-e-a-m!
Barbara Palvin for Marie Claire Italy May 2014.
It's a bit embarrassing to admit, but I've never (!!) smelled on
Byredo
's perfumes or candles before. Guess it's not hard to see why people are going crazy about them. Names like Bal d'Afrique, Gypsy Water and Seven Veils is enough to at least get ME hypnotized. And the packaging isn't bad either – simple and minimalistic. And the genius idea of a travel case (in python!). Beyond perfection if you ask me.
Lately I've been very much into colors and when I saw these
Aquazzura
sandals I got completely blown away! The color combo and tassels... Flawless! Just what I want to wear on my feet this summer.
Wouldn't mind having a big Monstera plant at home. Or maybe just a few leaves in a simple vase would also work fine.
Céline's Fall/Winter Ad campaign for 2011.